IMVH: An Innovative Tool for Teaching Intermediate Micro
The San Diego Education Research Alliance at UC San Diego (SanDERA), housed in the Department of Economics, continues to expand research activities in collaboration with the San Diego Unified School District.
Academic Trajectories
SanDERA researchers recently completed a U.S. Department of Education grant that developed a tool to provide district policymakers with accurate forecasts of which students are on or off track to meet education milestones. The team modeled a variety of these milestones, from proficiency in math to completing the expected number of courses in the first year of high school to postsecondary outcomes. For example, Figure 1 below, showing data observed in fifth grade, fairly accurately predicts the percentage of students who will be on track to complete the expected number of courses as high school freshmen four years later while meeting district grade point average criteria.
Figure 1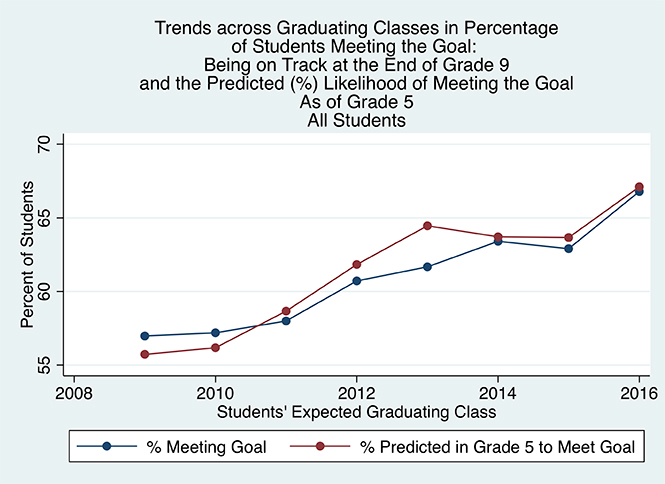 The project also explores why students are predicted to miss milestones. For example, the top bar in Figure 2 shows that in a recent year, the average middle school student had a predicted probability of being on track in ninth grade about 12 percentage points below that of older students who did in fact remain on track once they reached ninth grade. The remaining bars decompose this gap into explanatory factors. The most important factors explaining the gap are grades in mathematics and English language arts (ELA) and two measures that in part capture student behavior: students' citizenship grades and the percentage of school days absent.
Figure 2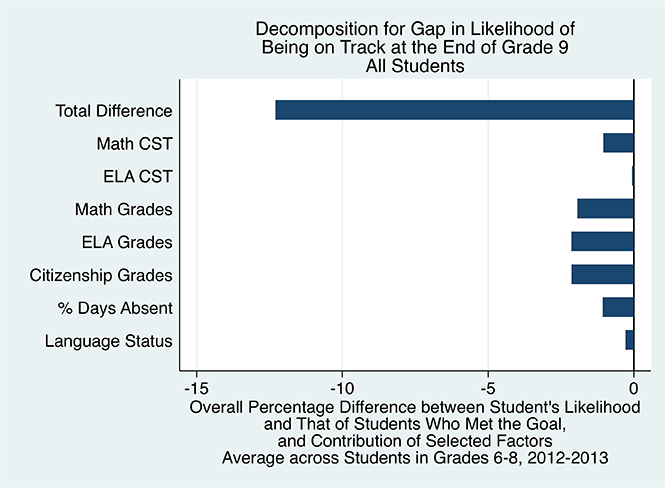 From 'Measuring the Odds' to 'Changing the Odds'
Our follow-up project, also funded by the U.S. Department of Education, is a $2.5 million intervention designed to improve math learning at four high-needs middle schools in San Diego. Peter Bell, director of SDUSD's Data Analysis and Reporting Department, called this a shift from "measuring the odds" of success — our previous research — to "changing the odds" of success. The name stuck, and the Changing the Odds research project has just completed year two of a four-year intervention.
The intervention includes twice-yearly diagnostic math testing through the Mathematics Diagnostic Testing Project. Past SanDERA research with Youjin Hahn, published by the Public Policy Institute of California, and in a more technical form in the Journal of Urban Economics, has shown that when the district mandated that all students in certain grades receive this test, math performance improved the following year.
State MDTP director Kim Samaniego is making important contributions to the project by working with the four Changing the Odds schools to interpret MDTP test results and develop classroom activities to help students. Kira Rua, a math resource teacher, plays a pivotal role in the project by working with all of the math teachers at project schools to develop lesson plans, by co-teaching, and by providing professional development. Another important team member is Professor Amanda Datnow of UC San Diego's Department of Education Studies is working with doctoral students Mimi Lockton and Hayley Weddle to interview teachers and principals and to observe and learn from Professional Learning Community meetings at the project schools.
At the district, Ron Rode, Dina Policar and Bell have provided numerous supports to the schools, including dissemination of student data and conducting an annual survey of math teachers. (Policar has joined SanDERA research team at UC San Diego, as of July, and continues to support the project.) In the Department of Economics, Karen Bachofer, director of SanDERA, manages the project, while senior statistician Andrew Zau works with Julian Betts on data collection and analysis.
This is an exciting, high-risk, high-return project that expands on SanDERA's main focus as a center for statistical evaluation of education policies, by moving into developing interventions.
Graduate Student Dissertation Work
Four doctoral candidates and graduates are researching thesis projects with SanDERA. Sam Young is working with Betts and others on causal estimates of the effects of school choice programs on postsecondary outcomes, and Sieuwerd Gaastra performed a regression discontinuity analysis of an after-school program as part of his thesis. Doctoral candidates Pablo Ruiz and Desmond Ang are in early stages of thesis work involving SanDERA data and data from the Los Angeles Unified School District.
New Grants
SanDERA has in the past few months won three new grants. The first, a two-year project funded by the W.T. Grant Foundation, will examine how policies that support English learners influence their academic outcomes in the two largest districts in California, SDUSD and the LA Unified School District. The project, with co-authors Laura Hill at the Public Policy Institute of California, Professor Megan Hopkins of UC San Diego's Department of Education Studies and Professor Magaly Lavadenz at Loyola Marymount University, will combine state-of-the-art econometric analyses with detailed interviews of district and school personnel, providing a true "mixed methods" approach.
The second new grant, funded by the Spencer Foundation, is a three-year effort in which SanDERA researchers will study school climate data, test its predictive validity with possible incorporation of these measures into SanDERA's "on track" tool, and work with SDUSD staff to help target limited district resources to provide socio-emotional supports to the schools and student subgroups with the greatest needs.
The third new grant, from the U.S. Department of Education, will allow the SanDERA team to perform regression discontinuity analyses to study the impact of English Learners being reclassified as fluent in San Diego. This work may provide the district and similar districts with information on whether students are being reclassified too early or too late.
Also, Professor Sally Sadoff of the Rady School of Management at UC San Diego has won a fellowship to work with Betts on an evaluation of The Preuss School, our own well-known charter school at UC San Diego.
All in all, these are very exciting times for SanDERA as it extends into new research areas and continues to gain some outstanding research partners at UC San Diego and elsewhere.