Chair's Corner
Chair's Corner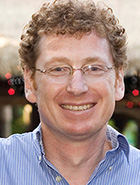 Welcome back to Economics in Action, a link to what's going on here in the department. There's actually a lot going on, so please excuse this report on our spring coming out so late.
Let me start with our biggest news, which we achieved as a team: U.S. News and World Report upgraded us from No. 15 to No. 12 in its 2017 rankings of U.S. graduate economics programs. Development and public fields were ranked in the top 10, econometrics in the top five. Economics, is, of course, a competitive business, so rising in the rankings is enormously difficult. This achievement is a testament to an ongoing, team effort in recruiting, encouraging, mentoring and incentivizing excellence in scholarship.
What's inside?
In this edition of Economics in Action, we feature a lead article on research led by Julian Betts on improving education for students in San Diego public schools. Transfer student Mark Keane writes on what it's like to be an undergraduate research assistant in an innovative program that matches undergraduates with doctoral researchers. Alum Lakshya Datta reports to us from India on his wildly successful storytelling startup, Launchora. We give you a taste of the intellectual buffet on offer, with a report on a visiting lecture by MIT's Abhijit Banerjee. Professor Julie Cullen reports on this year's record yield of successfully placed graduates of our doctoral program.
News on Faculty
Professor Ross Starr has retired, after many years teaching theory. Decades of graduate students benefited from his mastery of general equilibrium. For the past few years, he has mentored some of our most outstanding undergraduates in writing short research papers.
Professor Valerie Ramey has been elected to the prestigious American Academy of Arts and Sciences. An interview with her, covering topics including women in economics is available here.
Professor Melissa Famulari, our vice chair for undergraduate education, has been honored with the exclusive, campuswide Distinguished Teaching Award for Academic Senate members.
Professor Steven Levkoff earned the Earl Warren College Outstanding Faculty Teaching Award.
Karthik Muralidharan has received the inaugural Tata Chancellor's Endowed Professorship in Economics, in recognition of his contributions and leadership in development economics research, particularly in India.
Graduate Program
I'd like to highlight Grant Johnson, who received the campuswide Distinguished Teaching Award for graduate students, for his talent and dedication to undergraduate instruction.
Undergraduate Program
Working with our webmaster, Natalie Wolfe, the undergraduate advising team has redesigned our website to make it more informative and user-friendly for prospective students, current students and prospective employers. I invite you to check it out here.
The department continues to become more diverse. Our international students, who are now about half of our majors, represented more than 50 countries this past year. Among our resident students, 18 percent are from underrepresented groups.
The undergraduate program is becoming more demanding from year to year, with stricter course requirements for entry for this year's incoming cohort of graduate students. Alumni, this means that for outstanding interns or new hires, you may do well by considering your alma matter.
Outreach and Alumni
The Economics Roundtable continues to host excellent breakfast speakers, most recently our own alum Sandra Krieger, who spoke on her role at the Federal Reserve managing the financial meltdown from 2008-10.
The Economics Leadership Council met on campus on March 10, with myself, CFO Pierre Ouillet, Planning Director Robert Clossin, Career Services and student leaders. For the first time the ELC included graduates of our PhD program. I truly appreciate the time and effort the ELC has spent advising, mentoring, and advocating.
Three department alumni are leading The Campaign for UC San Diego: Ken Kroner '88, Aryeh Bourkoff '95 and Gary Jacobs '79. The campaign launched in March with a $2 billion goal. No pressure.
Emmy Sobieski '88, has been mentoring and speaking to our students for years, sharing insights from her career in finance. She was honored as a True Triton at a commencement event on June 8.
Your donations go a long way at UC San Diego, where our mission includes providing opportunity for low-income and disadvantaged students. UC San Diego leads highly selective universities in the proportion of students from low-income families. (We rank sixth in upward mobility.) Economics is doing our part, graduating 800-900 students per year to high employment rates and good jobs.
We're grateful to alumni donations for ongoing support. Giving back is easy: Try it here.
Best,
— Eli